Although Illinois hosts corporate headquarters of many large companies, its economy lags in blue-collar job opportunities.
Illinois is home tothe headquarters of36 Fortune 500 companies in 2017, according to Fortuneslist of the top companiesby annual revenue released June 7. This gives Illinois the fourth most Fortune 500 headquarters of any state. Yet despite this significant corporate presence, Illinois lags in blue-collar job opportunities.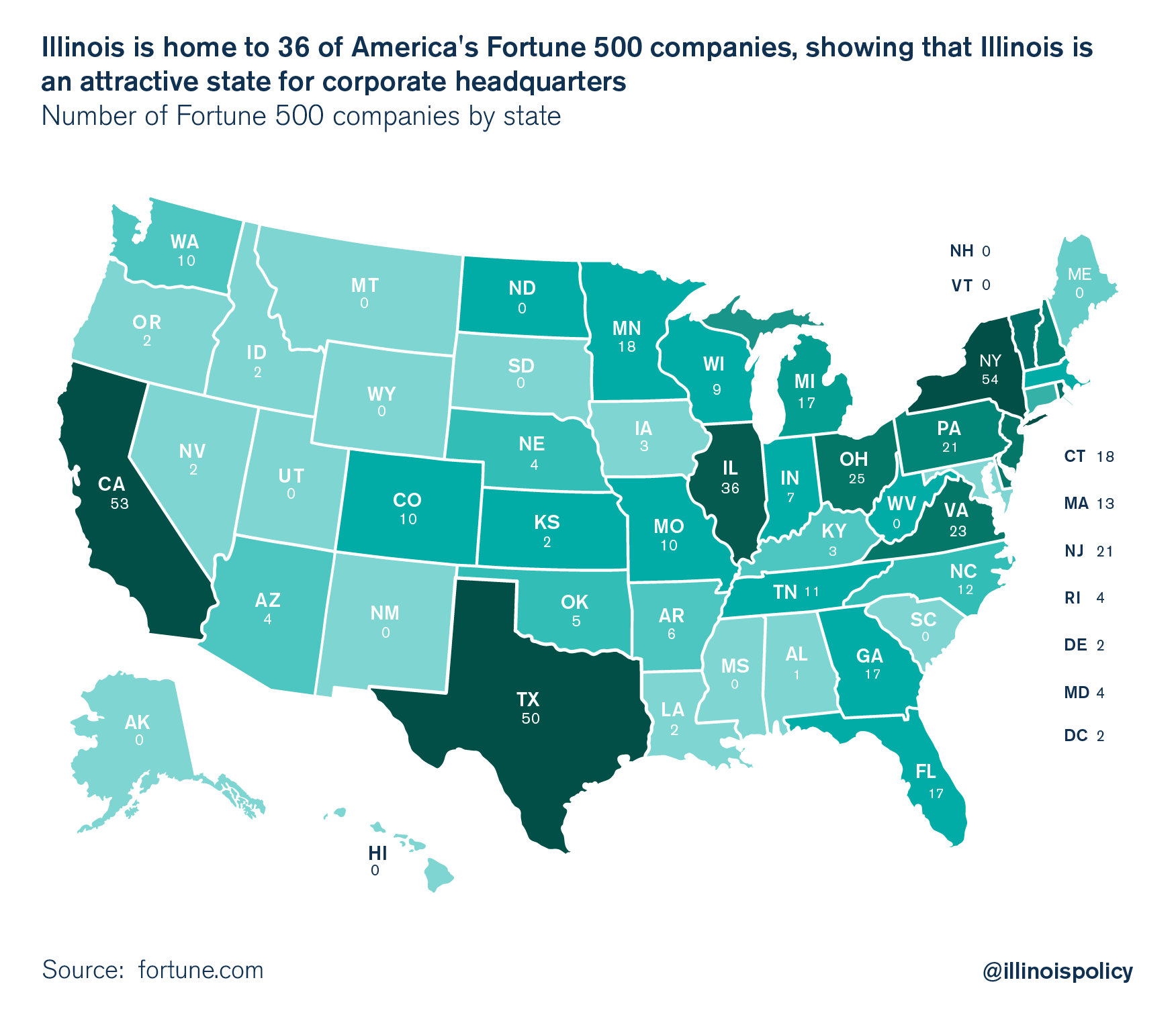 Ten Illinois-based Fortune 500 companies, such as Boeing and Archer Daniels Midland, are headquartered in Chicago, while others, including Walgreens Boots Alliance and Deere are located in the suburbs or downstate. New to the list is Oakbrook-based TreeHouse Foods, a food processing company that entered the Fortune 500 shortly afterbuyingIllinois-based ConAgras private-label food business in 2015.
Some Illinois-based companies rose in the rankings from 2016, such as Walgreens Boots Alliance (up 2 to 17th), State Farm Insurance (up 2 to 33rd), and Exelon (up 6 to 89th). Others, such as Caterpillar (down 15 to 74th), Deere (down 8 to 105th), and Mondelez International (down 15 to 109th), fell drastically from 2016 due to economic weakness in their respective sectors.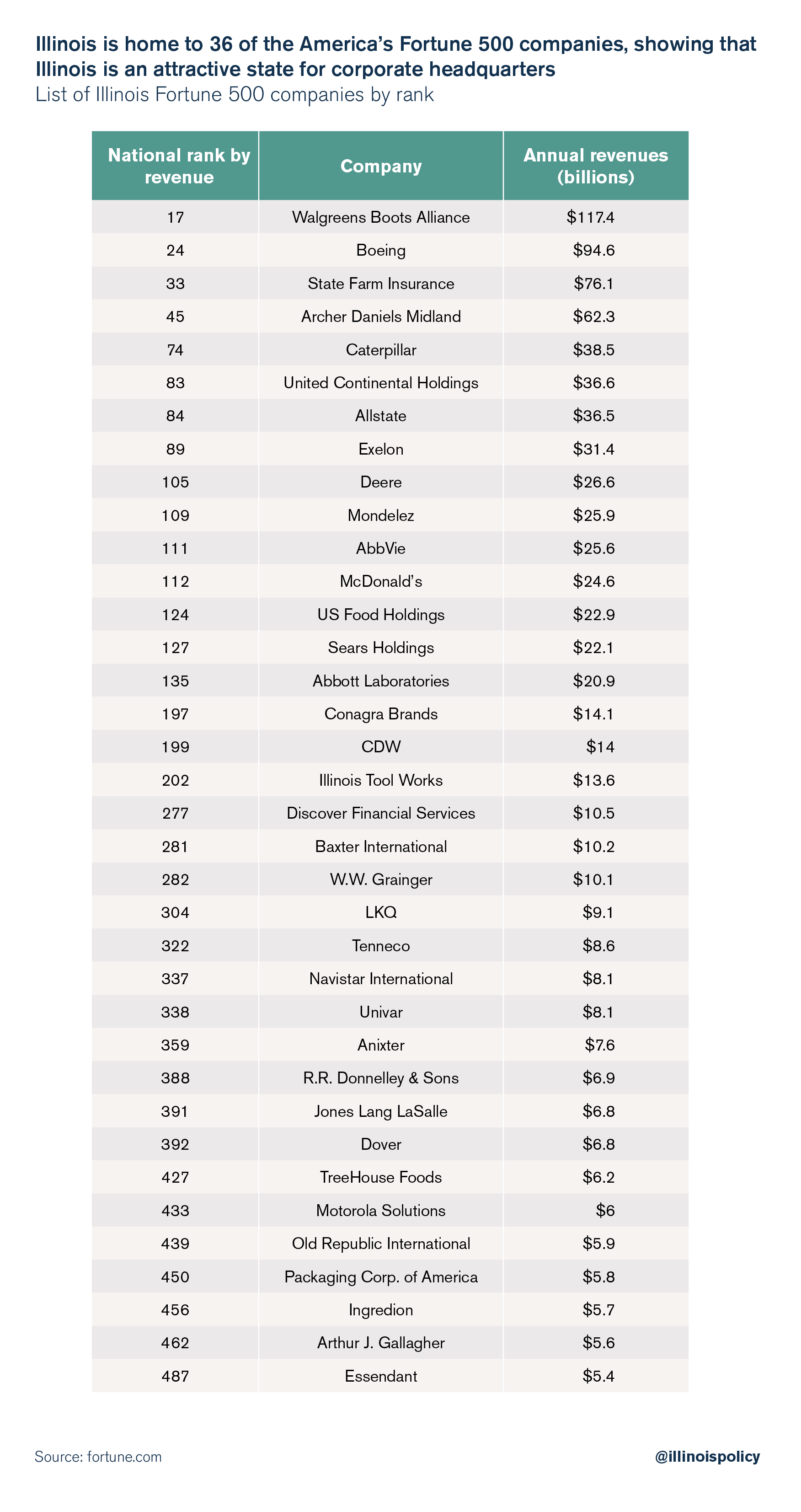 Despite this large presence of corporate headquarters, Illinois middle class continues to struggle amid weak economic growth. While corporate headquarters may provide jobs for high-level corporate management and executives, they do not provide the blue-collar jobs needed to support the states working-class families. Illinois has the worstmanufacturing jobs recoveryin the region, driven by the most expensive workers compensation costs in the region and the nations highest property taxes. These costs drive well-paying blue-collar jobs to states like Indiana and Missouri. Companies such as Hoist Liftruck Manufacturing LLC continue toshift plants and jobsto other states, resulting in fewer opportunities for middle-class residents of Illinois.
The Chicago region has tremendous advantages in location, transportation networks and college-educated talent that make it a natural hub for business headquarters. But attracting headquarters is only a small slice of economic development. Illinois needs to also attract middle-class jobs and allow small businesses to flourish.
Instead of offering costly subsidies for companies to relocate their headquarters to Chicago, such as thoseIllinois offeredto ConAgra in 2015 and thoseIllinois and Chicago offeredto Boeing in 2001, Illinois and its municipalities should focus on removing barriers to middle-class jobs. Those barriers include high workers compensation costs, prevailing wage restrictions and burdensome regulations. Improving the states business climate will help Illinois to realize the potential offered by its resources, promoting economic growth and opportunities for all Illinoisans.